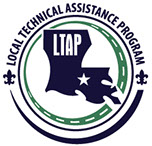 Transportation Asset Management and Pre-disaster Documentation for Local Agencies (6 PDHs)



IMPORTANT REGISTRATION INFORMATION
LTRC has launched a new Registration Management System. Now, you will have one profile to register for all events hosted by LTRC, LTAP, LCTS and other partnering agencies. Some things to note on setting up your profile and registering for these events:
• Google Chrome is the preferred browser when using this system.
• You will create a profile in order to enroll in any event. (NOTE: This will only be done on your initial visit to the website.)
• You will set up a username and password to manage this profile.
• Your password should be between 6-12 characters long.
• Please hold onto the email that confirms your profile.
• Once logged in, you will find a list of current events available for enrollment.
• After completing the appropriate registration(s), you will receive an email confirmation. Please hold onto this email as well.

The following link will direct you to the LTRC Event Management System: https://registration.ltrc.lsu.edu/login
You will need to choose "Create Profile" in the upper right corner if this is your fist time to use the LTRC Registration Management System.


---
Course Dates and Locations
Tuesday, June 19 - West Monroe
Lake Cheniere Lodge
104 Cheniere Lake Lodge Drive
West Monroe, LA 71292

Thursday, June 21 - Baton Rouge
4099 Gourrier Avenue (Room 100)
Baton Rouge, LA 70808

Time
Registration/Breakfast: 8:00AM
Class Time: 8:30AM to 4:00PM

6 PDHs available

Course Description


This 6.5 Hour Training Course presents an overview of Transportation Asset Management (TAM) from the perspective of local and rural agencies. It provides participants with techniques and basic tools to help them manage their road networks in a more cost effective manner. Focusing on Pavement Management, specific topics include:

The Concepts of Asset Management as they Apply to Local Agencies The Data You Really Need, and What You Don't How to Build an Inventory (or have someone else build it for you) The Language of Pavement Pavement Assessment Methods, including PASER for Asphalt The Mix of Fixes Analysis and Outputs Predicting Future Condition (yes, even local agencies can do future prediction) Documentation of Pre-Disaster Pavement Condition

The course contains a portion of the topics covered in the instructor's online TAM and PASER training courses being acquired by Louisiana LTAP for a limited number of local agencies, as part of ongoing training and more advanced asset management technical support in coming months. Training tools include spreadsheet templates to help with inventory and decision-making processes, as well as ongoing support from the instructor in a question and answer format. The course also covers a low cost method that any local agency can use to document pre-disaster pavement condition, documentation that can be then used in emergency relief applications.

The course will provide participants with the introductory skills for explaining TAM concepts to their agency managers and elected officials. This course will also help road personnel decide if they are interested and eligible to participate in the follow-up online training through LTAP.

Download the course flier here.

Who Should Attend: This workshop is intended for Local Agency Engineers, Managers, Road Supervisors, Consultants, and other local agency officials who conduct and oversee maintenance and preservation of pavements, and manage local road budgets. Elected officials responsible for local road decision-making will also find the course beneficial.

Instructor: Terry McNinch is the retired director of the Michigan LTAP. For over 20 years he has been teaching the concepts of transportation asset management to local agencies in a way that makes sense for them. In 2013, he cofounded PublicWorksTraining.com, an online training portal serving departments of public works nationwide. In 2015, under contract with the United Nations, he went to Afghanistan, twice, training for engineers from 25 provinces and in the Ministry of Public Works.

Enrollment, Registration, Registration Fees and the LTAP Cancellation Policy

Course enrollment is limited so register early!

Registration is required one week in advance of the class date. Registrants will receive a confirmation of their reservation.

Registration Fees:
$25.00 for municipal or public sector personnel
$50.00 for all others
Registration fees cover all materials, breakfast and lunch.

Credit Card payments accepted through the online registration page. Now accepting Visa, MasterCard, Discover, or American Express.

Make checks or money orders payable to: LOUISIANA STATE UNIVERSITY
Mail checks to: LTAP-TECHNOLOGY TRANSFER/LTRC
4099 Gourrier Avenue
Baton Rouge, Louisiana 70808-4443
ATTN: Bob Breaux
No Cash Please!

Failure to cancel at least 72 hours prior to the class date will result in your registration fee being forfeited.

For additional information about the seminar, contact Marie Walsh at mbwalsh@ltrc.lsu.edu.
For questions on how to register in the new LTRC Registration System, contact Courtney Dupre at Courtney.dupre@lsu.edu.
For payment questions, contact Bob Breaux at bbreaux@ltrc.lsu.edu.


The Louisiana Local Technical Assistance Program (LTAP) is a cooperative effort between the Louisiana Department of Transportation and Development, the Federal Highway Administration, and Louisiana State University. LTAP serves the needs of local transportation agencies and is a part of the Louisiana Transportation Research Center.

The Louisiana Transportation Research Center is a Louisiana State Board of Registration for Professional Engineers and Land Surveyors approved Sponsor/Provider of Continuing Professional Development. Professional Development Hour (PDH) credit will be awarded as follows: fifty (50) contact minutes of instruction or attendance = one (1) PDH.