Pavement Research Facility

Assessment of Pavement Performance
Rapid deterioration and premature failure of our nation's highway system are costly in time and money. In order to build more durable roads for tomorrow, it is imperative to find out today how pavements and materials will perform under repeated heavy loads. The Pavement Research Facility (PRF) provides an important bridge between laboratory characterization and long-term performance under heavy traffic loads.

Pavement Research Facility
The Pavement Research Facility, operated by LTRC, is staffed with an engineer manager, an electronics expert, and a mechanical expert. For each research project, research professors and engineers along with other LTRC staff augment the full time staff members. A technical advisory committee, comprised of members representing DOTD, FHWA, and state universities, provides direction and strategic planning for the research program. The facility is funded by the DOTD in cooperation with the Federal Highway Administration. Over $3 million has been invested in the site development, facility operation, and test bed construction at this state-of-art facility.

The PRF is strategically located on a six-acre site near LA 1 south, across the Mississippi River from Baton Rouge. With easy access to Interstate 10, Missouri Pacific Railroad, and the Intracoastal Waterway, materials can be conveniently transported to the site for accelerated loading studies. Pavement test sections are built with full-scale construction equipment closely simulating normal highway construction. The Accelerated Loading Facility (ALF) provides traffic loading.

ALF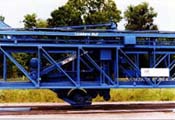 The ALF device is a 100-ft long, 55-ton, accelerated loading device used to simulate truck loading for pavement testing. One of only three of its kind in the nation, ALF compresses many years of road wear into just a few months of testing. With a computer-controlled load trolley, the weight and movement of traffic is simulated repetitively in one direction with the load can be repeated every ten seconds around the clock. The load is adjustable from 10 thousands to 21 thousands pounds per ALF load application. By increasing the magnitude of load and running the device for 24 hours a day, it is possible to condense 20 years of loading into a period of only one month.

Making a Difference
The cooperative research effort of the pavement research facility provides a unique opportunity for researchers from LTRC, state universities, and industry to work together for the future of our nation's transportation system. LTRC's Pavement Research Facility is leading the way.